Our population is growing and we need to set Ōtautahi-Christchurch up for the future. Over the next 30 years, it's predicted we'll need over 50,000 more houses in Ōtautahi-Christchurch to ensure everyone has a place to live – we're planning for that now.
This means re-thinking some of our planning rules to allow more housing choice to accommodate the diversity of people who choose to live in our city. We also need to provide greater opportunities for business development in Ōtautahi-Christchurch.
With families getting smaller and people getting older, housing preferences are changing. Future development of our city needs to provide appropriate housing and commercial centres – while also addressing issues such as climate change and housing affordability, for the good of future generations.
We also need to make changes to our District Plan to comply with new government direction from the National Policy Statement on Urban Development 2020 (NPS-UD) and the Resource Management (Enabling Housing Supply and Other Matters) Amendment Act 2021. This direction requires us to enable more housing and development across residential zones with higher height limits within and around the city centre and suburban commercial centres.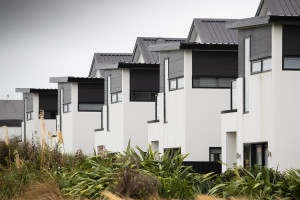 We want to put more houses in the right parts of our city, close to our growing commercial centres, where there's good access to services, public transport networks and infrastructure. Living within easy reach of work, school and shops makes getting around easier and helps cut transport emissions, which is better for the environment. Building more homes on our existing urban footprint also protects our precious, versatile soils.
Our recent Housing Survey showed that 57 per cent of people support changing the rules so that more homes can be built in areas that are already developed.
Some of the changes we're making are legal requirements of the new national direction. They must be notified before 20 August 2022 and cannot be influenced by the Council, or community feedback. However, there are some changes that can be adapted based on our residents' views.
Your feedback on what we're proposing is important and will help us develop the draft changes to the District Plan that are not strictly dictated by the new national direction. The draft plan change will then go out for further consultation when it is formally notified before 20 August 2022.
How the District Plan works now
Under our current District Plan rules, only one house is permitted on most suburban residential properties in Ōtautahi Christchurch. More dense housing is permitted on some sites close to the central city and key suburban commercial centres. The height limit in our suburban areas is generally 8 metres high with some higher heights permitted closer to the central city and key suburban commercial centres. Developments that don't comply with the rules require resource consent.