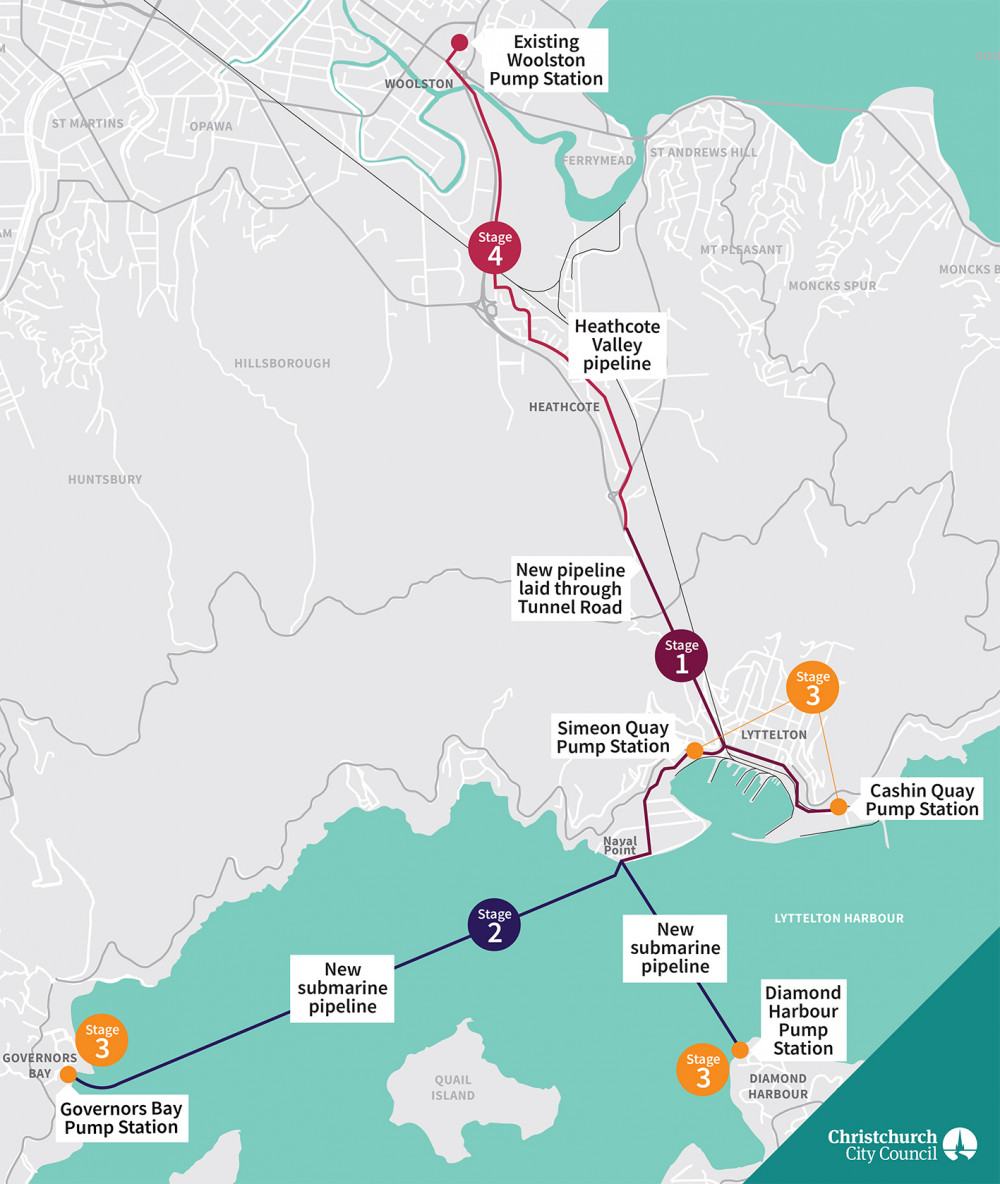 Construction of the Lyttelton Harbour wastewater project is being carried out across four phases. Learn more about the different work involved. We'll commission the new wastewater network once all phases are complete. This is currently planned for early 2022.
Phase one
A fibreglass pipeline has been installed above the Lyttelton tunnel to transport wastewater from Lyttelton. This work was carried out in conjunction with NZTA's fire protection upgrade work on the tunnel.
Phase two
Submarine pipelines were buried approximately one metre under the seabed to transport untreated wastewater from the Governors Bay and Diamond Harbour wastewater treatment plants to Naval Point in Lyttelton.
New underground pipes were installed to connect the Lyttelton wastewater treatment plant to the Simeon Quay pump station and the pump station to the Lyttelton tunnel wastewater pipe.
Phase three
We've built pump stations at the Governors Bay, Diamond Harbour and Lyttelton (Cashin Quay) wastewater treatment plants. We are now testing and commissioning these pump stations, as well as constructing a new pump station at Simeon Quay in Lyttelton.
Work on this phase started in July 2018 and is expected to be complete in 2022.
Phase four
The Heathcote Valley pipeline involves the installation of an underground pipeline connecting the Lyttelton wastewater system to the Christchurch Wastewater system via Heathcote and Woolston.
The Heathcote Valley pipeline runs from the Heathcote side of Tunnel Road, under Bridle Path Road and through Port Hills Road to Mauger Drive and Scruttons Road, under the paddocks parallel to Tunnel Road, under the Heathcote River and connecting to the Woolston pump station in Alport Place.
From there the wastewater will be pumped through to the Christchurch Wastewater Treatment Plant in Bromley. Construction on this final phase started in March 2019 and we plan to finish this work in 2022.