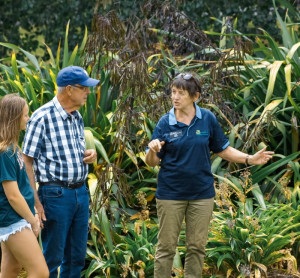 Volunteer guides from the Friends of the Botanic Gardens offer free guided walks at the Botanic Gardens between October and April, and throughout the year on request. Seasonal walks at Mona Vale are offered throughout the year.
Guided walks:
1.30pm.
Meet outside the Kiosk for Botanic Gardens walks and by the Rose Garden car park at Mona Vale.
Botanic Gardens tours are 45 minutes long unless otherwise stated and all Mona Vale tours are 90 minutes.
If you have any queries or would like to request a guided tour, please contact Friendsofthegardens@gmail.com.
A fantastic guided tour by knowledgeable and friendly guides showcasing some of our spectacular collections.
Guided walks at the Christchurch Botanic Gardens will return in October.
Mona Vale walks
Saturday 7 May

Saturday 21 May

Saturday 25 June

Saturday 23 July

Saturday 27 August

Saturday 10 September

Saturday 24 September