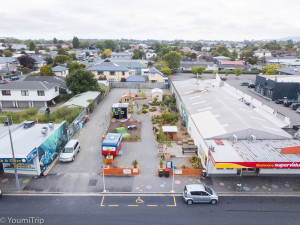 A large vacant site at 108 Stanmore Road has been activated with "tiny shops" that include a café, second-hand goods and craft, cycle repair, play space, shared project spaces, and a community garden.
The project opened in 2018(external link) in response to the high proportion of vacant buildings and sites in Linwood Village as a result of the earthquake sequence and an identified need for more services for the local community.
The project is a collaborative effort. Local community organisation Te Whare Roimata has an ongoing presence at the site and ran initial community engagement to develop the vision.
Landscaping and site preparation was completed by The Green Lab (former Greening the Rubble), and Variant Design helped to design and construct some of the shops.