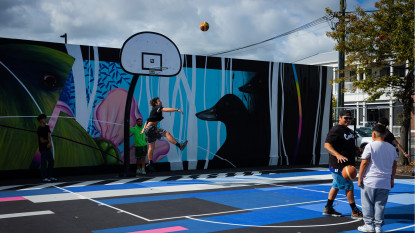 A sizeable vacant site at 207 St Asaph St transformed into a vibrant, temporary youth space from March 2023. The space includes an outdoor half basketball court, along with six giant spray cans, seating and street art murals.
Three of the giant spray cans are 'free spaces' where everyone is welcome to have a go, while the remaining cans had new murals created by DTR Crew and Kophie.
Artist Nick Lowrey's mural enlivens the eastern substation wall with native bird and plant life. Dr Suits' ground floor artwork transforms the basketball court with vibrant, geometric blocks of colour.
The project was in partnership with ECan, with consultation from Watch This Space.