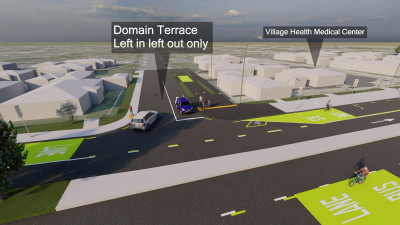 There will be some changes to the road layout along the route to improve safety for everyone.
We're planning to extend the centre raised median from Whiteleigh Avenue to Curletts Road to improve safety of all road users. Centre medians separate traffic lanes and prevent the potential for right-turning crashes. It also provides an opportunity to improve the street with trees and landscaping.
A U-turn bay will be installed outside 20 Lincoln Road to provide a turning opportunity for vehicles coming from Annex Road and wanting to drive towards Halswell.
We will be retaining left and right-hand turns on and off Lincoln Road onto the majority of side streets throughout this section. The exception to this is for:
Domain Terrace – we're proposing to remove the right turn in and out to make it safer for all road users and increase driver visibility. If the right hand turn into Domain Terrace is removed, we're proposing to install a right hand turning arrow from Lincoln Road onto Lyttelton Street to help with traffic flow.
Torrens Road – we're proposing to remove the right hand turn out, but retain the right turn in. We are keeping the right turn into Torrens Road to help with access for local businesses.