Agnes Abuel-Guda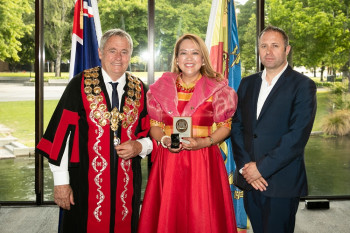 She is a seemingly inexhaustible well of energy, the number of community initiatives with which she is involved seemingly endless.
She is one of the founders of Pinoy CARES Canterbury, a Filipino group that has been involved in a great number of projects to the betterment of not only the Filipino community but of the wider Christchurch society as well.
She is a volunteer mentor-driver for the Salvation Army, and works for the Student Volunteer Army as a team leader for the distribution of groceries to those isolating with Covid-19.
She was one of the founding members of the Christchurch Philippines Assistance Group that formed after the earthquakes. She is a Multilingual Information Network Facilitator for the Office of Ethic Communities and a member of its Woman-2-Woman Group.
She is a member of the UN Women Aotearoa New Zealand, and volunteers for the Pink Ribbon Society and for the Mental Health Foundation NZ.
At the height of the recent pandemic she assisted in the vaccination campaign, collaborating with different groups to arrange pop-up clinics, and with food banks for the distribution of food supplies to those affected by Covid-19.
Deeply loved by her community for her total dedication and cheerful manner, she is the very epitome of the true community leader.
---
The Ardour Charitable Trust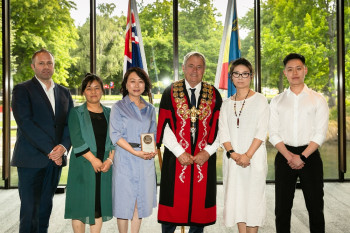 Founded in 2012, the aim of the Trust has been to maintain Chinese culture, to give resettlement support for Chinese migrants, and to promote social cohesion and harmony.
As such the Trust works with various government agencies in New Zealand and China providing a variety of events and activities to enable Chinese Kiwis to reconnect with their rich and ancient cultural heritage.
New migrants are assisted with a range of seminars to help them navigate the maze of new and sometimes very different social institutions such as education, immigration, health and social welfare that they may encounter. The Trust provides an Education System Hub offering guidelines to newcomers on the education and schooling system, enabling children to settle into and integrate with the local system.
Small business owners are supported with seminars explaining the intricacies of government polices, rules and regulations, and compliance requirements.
The elderly, often alone and with little or no English, are especially vulnerable, and the Trust provides classes and activities such as Tai Chi, and social and family events enabling such people to spend time with families and make new friends.
The Trust is a veritable powerhouse, improving the lives of all with whom it comes into contact.
---
Eleanor Bissell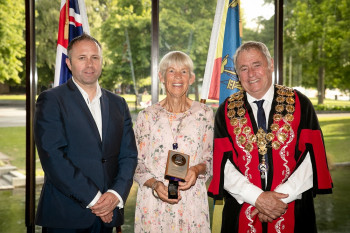 She has been contributing to the restoration of Oruapaeroa/Travis Wetland Nature Heritage Park for more than 25 years.
She has been a leading supporter and board member of the Travis Wetland Trust for all of that time. In addition to the regular work of the Trust, she can be found every week painstakingly toiling away on hands and knees, caring for the rare and endangered plants of the wetland, some of which would not have survived without her meticulous care.
She is a key member of the small team that organises the monthly Trust working party, and has been since the beginning, and is a much-valued provider of home baking for post-work morning teas.
As a former teacher and long-time Forest and Bird Kiwi Conservation Club leader she takes every opportunity to open the eyes of visiting children and their parents to the wonders of the wetland, both plants and the 'creepy-crawlies' that especially excite young, impressionable eyes.
Nor is this all. She participates in other community conservation projects in her own neighbourhood of Huntsbury, at the Ernie Clarke Reserve and the King George V Reserve, as well as initiatives at Lake Clearwater. She is a gem indeed, and worthy of the highest of accolades.
---
Kenneth Bye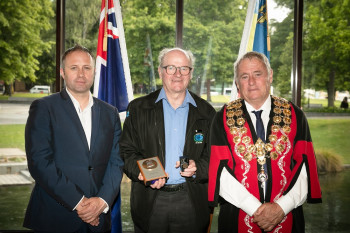 It may be a cliché to make the oft-repeated claim that society as we know it could not exist without the legions of volunteers who work tirelessly in the background to maintain it.
Nevertheless, it is so, and the capabilities of the regular emergency services to give aid and succour to citizens in distress would be drastically reduced were it not for the contribution of groups like the Christchurch South Community Patrol who dauntlessly and doggedly go about their work untiringly – and all too often unnoticed and unthanked.
He has been Patrol Leader of the Christchurch South Community Patrol for the past six years, devoting up to thirty hours a week to ensuring that the Patrol operates smoothly. He has sixty members to coordinate, organising day and night rosters and sorting out all issues that may arise.
He ensures that his patrollers complete a rigorous training programme so that they may be able to competently assist in any situations that they may encounter. He coordinates with the Police and with the City Council, and particularly with Councillors so that he and his team are kept aware of any community concerns.
He can be assured that the community has noticed the work that he and his team do, and that for that they have the community's unreserved thanks.
---
The Chinese Culture Association [NZ] Inc
From its inception in 2004, the mission of the Chinese Culture Association [NZ] has been to facilitate and nurture multiculturalism in Christchurch through the organising and hosting of countless multicultural events and Chinese community activities.
The Chinese Festival [NZ], a subsidiary of CCANZ, organises and coordinates opening ceremonies and performances: arts, photographic and calligraphic exhibitions; Chinese cultural workshops and seminars on calligraphy, Chinese Opera and drama, dancing, singing and much more.
It arranges concerts and performances for the Chinese New Year festivities and participates in events organised by the Christchurch City Council and other community organisations.
The Homeland Programme began during the earthquake recovery period, the concept of 'homeland' emerging from the notion that Christchurch residents of all backgrounds were starting to rebuild their homes and lives with more and more confidence.
The Association has managed and continues to manage, to organise events every year, even during the hardest of times.
Come earthquake or pandemic, the team has been able to face the challenges and continue, actively collaborating with the other ethnic groups of Christchurch to construct a truly multicultural environment, for which the wider Christchurch community can truly say, "Well done. Mission accomplished."
---
Ted Clarke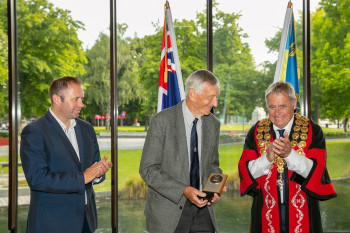 In an age of increasing international tensions of intensities up to and including open warfare, of growing nationalism, and of increasing political and ideological polarisation, the need for dialogue and communication between communities could never be greater.
The Christchurch-England Sister Cities Committee has for decades been dedicated to just this purpose, and he had been a member of that body for over thirty years, acting as Chairman for most of that time.
As such he has been instrumental in the arrangement of countless initiatives linking the Cities of Christchurch in Canterbury, New Zealand, with its namesake in Dorset, in southern England.
There have been reciprocal visits, local events and promotions, cultural and academic exchanges. Of particular note is the exchange programme between Christchurch's Linwood College and Twynham School in Dorset.
Without his vision and determination, this significant and most excellent undertaking would never have started, let alone be running twenty-five years later.
His efforts over a period of generations have substantially contributed to the inculcation, here in Christchurch and in Britain, of an internationalism and a cosmopolitan outlook that has always been needful and is more imperative than ever today.
---
Joshua Davies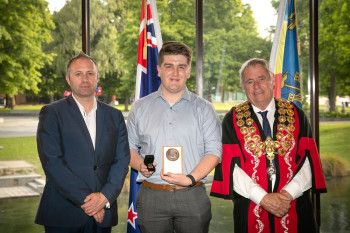 He has been a member of the Christchurch Youth Council since 2018, currently serving as Treasurer. He is involved with St John Youth, helping with the delivery of curricula at weekend camps, and with the training of Cadets.
He is an active member of the Christchurch Metro frontline ambulance service as a first responder and working as a volunteer community educator, teaching CPR and basic first aid in the community.
He is a YMCA holiday programme leader and a CCN Group member on a panel for Rangatahi Health in Canterbury. During the Covid-19 outbreak, he worked with the Youth Council to arrange a series of information events, which involved working with health professionals to translate information into understandable language and to present it in a format that would be more easily accessible to young people.
He helped to ensure that the Youth Council had robust policies in place the better to protect the team, and was a key player in the organisation and delivery of numerous Covid-19 response initiatives such as vaccination events, and the distribution of care packages to young people in quarantine.
He is a perfect role model not only to all young people but to all citizens regardless of age.
---
Mark Gerrard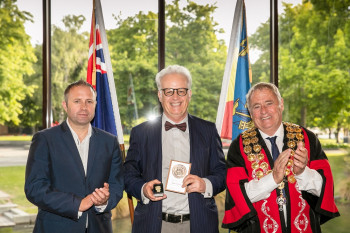 For the last twelve years, he has been the Chair of Historic Places Canterbury, a consortium of heritage supporters, advocates and activists who fervently believe that the retention of the City's built environment is vital to an understanding of how the people of Christchurch came to be the singular grouping that they are.
The cityscape of Christchurch has been going through a period of rapid and sweeping changes ever since the devastating earthquakes of 2010-2011, with almost three hundred buildings lost in the Central City alone.
Through his advocacy and his collaboration with many groups, he has made an incalculable contribution to the preservation and retention of what remains of the City's built heritage. He has lobbied, made deputations, and given presentations tirelessly. There have been rallies and protests, there have been media releases and interviews, and a social media campaign.
Always he has rejected the 'demolish and rebuild' school of thought that would wipe clean the slate of the City's history, seeking to retain as much as possible, and ensuring that both Māori heritage and the Colonial past are recognised as all elements of history are part of the City's fabric, a narrative of Christchurch's on-going journey through time.
---
Lucy Alice Gray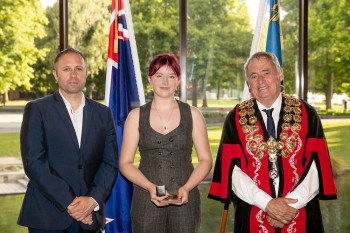 When her journey began in 2017 the future was looking dark indeed. At ten years of age, she first learned of climate change and was so appalled that she decided to do something about it. She began with everyday changes – what she ate, how she travelled, what she bought.
At age eleven she started a group at her local primary school to teach others about climate change and what they could do about it. In that year, 2018, she was invited to consult on the development of a climate change curriculum for schools and she contributed to the development of materials, filmed a resource kit and presented a session during the curriculum trials.
In 2019, she volunteered to be the coordinator for the Ōtautahi School Strike for Climate. She spoke and performed [she is also a talented singer-songwriter] at the event, joined by thousands of people in Ōtautahi and across the country. She and her team went on to organise climate-strike events in 2020 and 2021.
Throughout 2019 and 2020 she advocated for climate action through meetings with Prime Minister Jacinda Ardern and Environment Minister James Shaw, as well as with local council and community groups.
With her to show the way, the future begins to look brighter than anyone might once have dared to hope.
---
Dr David Miller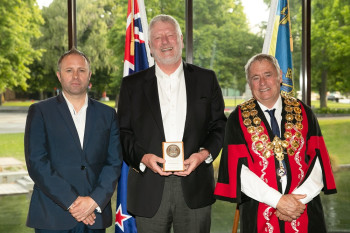 For over twenty years he has provided leadership and guidance to many citizen-led initiatives for the betterment of Akaroa and its environs.
With many skills and a wealth of experience gained in high-level global roles and a background in clinical psychology, he is uniquely well-placed to advise and oversee matters of policy development, systems implementation and organisational governance.
Despite heavy international commitments, he has brought this formidable suite of skills to bear on local organisations. The Banks Peninsula Conservation Trust and the Friends of the Akaroa Museum have both profited materially from his skilful involvement.
He coordinates the Inside Out Akaroa House and Garden Tour, a major biannual fundraiser for the Akaroa District Promotions and the Friends of the Akaroa Museum.
He is actively involved in the Duvauchelle Agricultural and Pastoral Show and is often called upon to chair public meetings as his professional demeanour helps to set the right tone.
His positivity and enthusiasm inspire others to contribute their best to local causes, and his approach to leadership is always inclusive and collaborative.
He is the epitome of the engaged and active citizen, working hard for the community within the wider context of the City and district of Christchurch.
---
Dr Hero Modares
Although in full-time employment since her arrival in New Zealand, she has been actively engaged in representing the Iranian and multicultural communities in Christchurch and the wider Canterbury region.
She established the first Iranian Society in 2017, acting as its President until 2021. Since then she has organised two major events per year and several smaller events including movie nights and poetry readings.
She has attended festivals where she has run stalls providing information on the Iranian community and has organised and introduced the public to cultural events such as those showcasing Persian music and dance.
She co-ordinates New Zealand's first and only Farsi language radio programme to which all Farsi speakers – Iranian, Afghani, Tajik, Kurdish and others - can gain access, with its focus on enhancing well-being, connections and social cohesion within the Farsi-speaking community.
Through this programme, she helps them to integrate into a better lifestyle in New Zealand while at the same time keeping their cultural roots alive.
She spends hours every day co-ordinating events, workshops and webinars, applying for funding grants, preparing content for her radio show, and attending various community-related meetings at the Christchurch City Council.
Fortuitously, the English meaning of her given name also defines her nature. She is a true hero of her community.
---
Bill Nye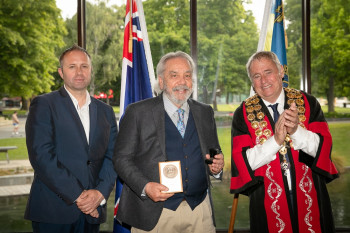 Antarctica, the white continent, has fascinated the adventurous for over a hundred and twenty years. Many who go there flee it, terrified, never to return. Others are captured in a lifelong enthralment. He belongs to the latter category, a retired engineer who spent time on the Ice in the Ross Sea, where he caught the Antarctic 'bug'.
Today, and for many years now, he has run the Adventure Bookshop, lately in the Arts Centre of Christchurch. Much more than just a bookseller, it is a hub where people from the Antarctic and mountaineering communities meet to socialise, to learn and to exchange ideas and tales in the company of great literature and like-minded folks.
He organises free events, including exhibitions, receptions, book launches, slide nights and lectures. He never asks for much help, but simply makes things happen, mostly by donating books, or time, or funds to organisations such as the New Zealand Antarctic Society or the Himalayan Trust.
He looks out for the Old Explorers, veterans of Antarctic or mountain exploration, making sure that their achievements are not forgotten.
His contribution to the heritage, culture and education of the people of Christchurch would be very difficult to match.
---
Ōnuku Rūnunga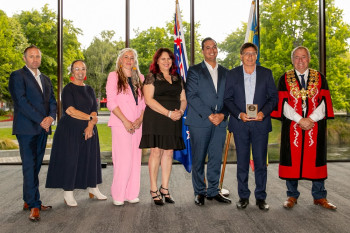 The Story of Aotearoa is a complex tapestry, a fabric woven of many threads. The endeavours of the Ōnuku Rūnunga over many years, endeavours that have led, amongst many other things, to the establishment of Takapuneke Reserve, have developed a thread of great strength and of wondrous hues.
The story of Ōnuku Rūnunga and of Takapuneke has been uncovered, restored and brought back to life, so that it may be shared with a wider audience across Ōtautahi and Aotearoa. It tells of a unique people and of a special place that is woven into the wider tapestry.
It has helped to preserve an essential knowledge and understanding of the past of our region, an understanding that is essential to the creation of a sound foundation for the future.
Young and old have worked for endless hours on this process, the older telling of the importance of Takapuneke, the younger learning the story that they may better develop the next chapter in the on-going tale.
The work of Ōnuku Rūnunga has been deeply significant, for it has raised the profile of early events that, while some of which were not easy to talk about, nevertheless have contributed to the history of this City, this region and this nation, and to Pūrākau o Aotearoa, the ever-evolving Story of Aotearoa.
---
Jacek Pawlowski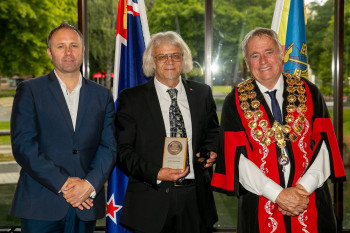 It is important that those who come to New Zealand integrate into New Zealand society, but it is also essential that they retain elements of their own unique culture, a seasoning that becomes part of the mainstream, giving it added depth and complexity.
Although Polish settlers began to arrive in the Christchurch area more than a century and a half ago, it was not until the end of World War II that the Polish Club was formed.
Arriving with his family in New Zealand in 1986 he immediately began an involvement with the local Polish community, an involvement that has continued unabated for three and a half decades.
He has been Vice-President and President of the Polish Club and of its successor, the Polish Association of Christchurch. He has helped to organise family trips to Cave Stream or for skiing at Kurow, beach events at Spencer Park and Easter camps at Kenepuru in the Sounds, bonfires, basketball matches and fun days.
He has played a significant role in organising cultural events and providing leadership for the City's Polish community, and in helping to both preserve and showcase the rich cultural heritage of Poland he has added colour and vigour to the identity of Christchurch.
---
Project Lyttelton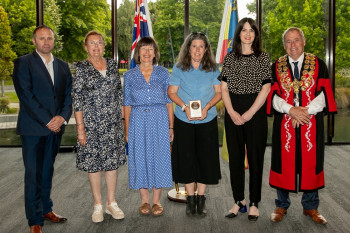 Few could claim to follow the exhortation to 'Think Global – Act Local' more literally than Project Lyttelton.
The project's purpose is sustainability, a simple word for an enormously complex and often contentious concept that in an age when anthropogenic climate deterioration threatens the very existence of life on earth, nevertheless may well hold the key to our survival as a species.
The Project's activity has been local, but in presenting the Lyttelton Farmers' Market as a model, its impact has been regional and, indeed, potentially global. It examines everything it does to make sure that nothing has a negative impact on the community and to see how all its activities may be improved.
Waste minimisation, the reuse of items and materials, and compostability are but key foci in a range of strategies that are on display at the Market for all to see, giving the Project's ethos a far greater reach than just within the Lyttelton community.
It is showing other parts of the City of Christchurch and the Canterbury region what can be – indeed what has to be - done.
Taking that first step is always difficult, but so much easier when there is a helping hand. Project Lyttelton offers that hand.