Once Te Kaha is completed, we anticipate Lichfield Street, with the bus interchange and three car-parking buildings, will be one of the two primary pedestrian gateways to Te Kaha from the west. During larger events, Lichfield Street between Manchester and Madras Streets will be where pedestrians from the west converge as they approach Te Kaha.
Our objective is to create a safe and enjoyable experience for pedestrians moving between the city centre and Te Kaha. The street needs to:
cope with higher volumes of pedestrians attending regular Te Kaha events without the need for expensive and potentially disruptive event traffic management plans
make the most of new opportunities presented for nearby businesses
tie in the new High Street tram line extension
improve pedestrian safety
be an attractive place for people to be.
We have developed two options for upgrading Lichfield Street:
Option 1 - a full street upgrade that maintains local access for traffic, but reallocates more space for mixed uses. This is our preferred option.
Option 2 - a minimal redesign maintaining two-way vehicular access and some time-restricted parking.
Option 1
Full street upgrade that maintains local access for traffic, but reallocates more space for mixed uses.
This is our preferred option.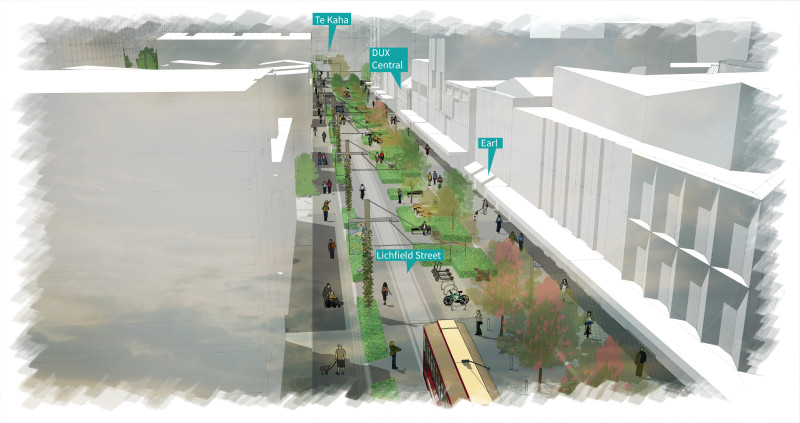 Our preferred option is to redesign the road corridor to create a 10km/h shared-use zone with wider footpaths, passive rain gardens, more space for outdoor dining, and scooter and bike parking.
This section of Lichfield Street would become one-way east-bound, although a slip road from Madras Street to Nurseryman Lane will maintain access to the car-parking building. There will also be loading zones to support the local businesses.
This option meets our objective of creating a desirable pedestrian gateway to the arena and the east of the city, while reducing the need to frequently organise and pay for costly event traffic management. It is envisaged that this new layout would achieve more day-to-day use of the street through pedestrian access and outdoor dining opportunities.
View the plan for option 1 [PDF, 2.1 MB](external link)
Pros
Cons

Less expensive long-term due to reduced event traffic management and less disruption

More attractive streetscape with landscaping, including trees

Increased outdoor dining opportunities

More cycle and scooter parking

More pedestrian and cycle friendly, with speeds reduced to 10 km/h

Inclusion of passive rain gardens to reduce water run-off

Potential for project to be subsidised by Waka Kotahi

The Manchester-Lichfield Street intersection will be upgraded to include diagonal pedestrian crossings when trams are not present

More expensive in the short-term as upgrades are implemented

Removes all existing on-street car parks, while retaining loading zones

One-way traffic flow for this section of Lichfield Street changes some local journey route
Option 2
Minimal redesign maintaining two-way vehicular access and some time-restricted parking
This option is being considered following early feedback from the Central City Business Association. The minimal redesign option provides some opportunities for outdoor dining and an improved street amenity to the south side. It would also retain on-street parking on the northern side.
The status quo of two-way traffic and a 30km/h speed limit would remain.
While this is a slightly cheaper option to build, it's likely that costly event traffic management plans and street closures would need to be provided more frequently for events at Te Kaha. This means long-term operational costs to keep this current road layout will be higher over the lifetime of Te Kaha, and more disruptive to the area each time an event takes place.
View the plan for option 2 [PDF, 1.8 MB](external link)
Pros
Cons

Cheaper to build and maintain in the short term

Retains 23 of the existing 46 on street car-parking for existing businesses

Retains two-way traffic for the entire street

Provides a few small areas for outdoor dining opportunities

No trees and minimal rain gardens to reduce water run-off

More expensive to manage and disruptive during most events

Less pedestrian and cycling friendly

Less cycle and scooter parking

No improvement to the crossing at Lichfield/Manchester/High St intersection without compromising the efficiency of the surrounding road network

Less beautification
Budget: up to $3.2m