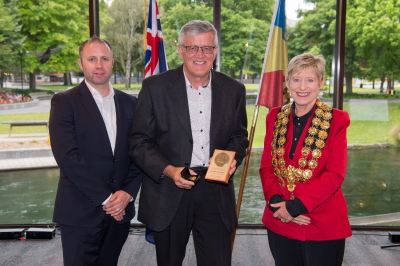 Over many years the very successful Stedfast Brass has brought pleasure to thousands of music lovers. Their performances are many and varied, ranging from their annual 'loyal variety' concert to the Summertimes programme concerts, school fairs, rest homes, garden parties and church services. Their playlist covers genres from pop songs to jazz standards, classics to golden oldies and marches to sacred songs. The key to the success of the band is the man who wields the baton, the Conductor and Musical Director. He is passionate, enthusiastic and a virtuoso musician in his own right.
For over twenty years, through his leadership and dedication, he has encouraged the ensemble of over thirty musicians to perform to the very best of their abilities, but he is far more than just the leader of the band. He gives individual tuition to new or less skilled members. He arranges performances, ensuring that a suitable programme is prepared to provide an enjoyable experience for both audience and players alike. He provides pastoral care to members, visiting the sick, listening to cares and concerns.
His contribution to the cultural and spiritual life, not only of his fellow musicians but also of other bands and of community groups in Christchurch, is and continues to be incalculable.