Roadworks: Springs Road and Marshs Road intersection upgrade - Night works from 1 October
| | |
| --- | --- |
| What | Construction of a new roundabout , including cycleways and upgraded road layout |
| Where | Intersection of Springs Road and Marshs Road |
| When | Tue 5th Oct 2021 02:51 pm |
| Contact | Isaac Construction – Project Communications: Jessica Swift – e: jswift@isaac.co.nz p: 027 207 4631 |
Selwyn District Council will begin construction work from the week commencing 19 April 2021 until the end of November 2021 on upgrading the Springs Road and Marshs Road intersection. This will involve beginning the main construction works on a new roundabout to help manage safety and traffic flow in the area.
Night works:
From Friday, 1 October night works will be in place to reduce Springs Rd to one lane with temporary traffic signals in place between the hours of 6:30 pm and 5:00 am until the end of October.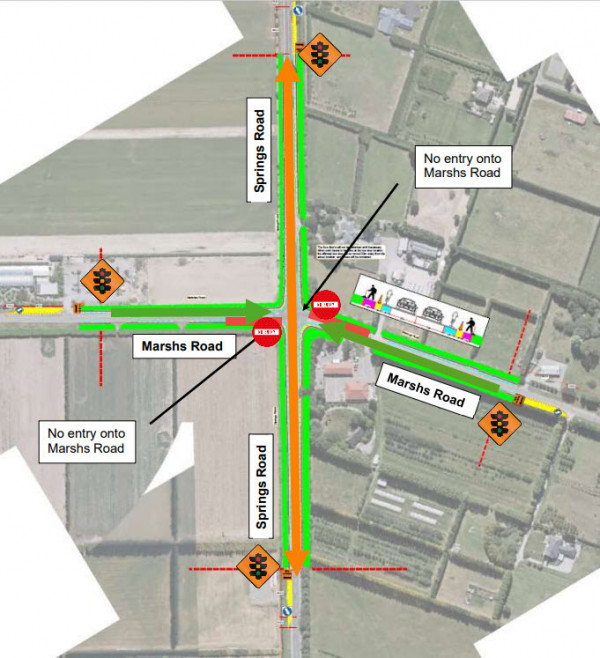 Traffic Impacts:
During the construction works the following traffic management will be in place:
Springs Road will have speed reductions in place to manage two-way traffic flows through the intersection with Marshs Road.
There will be No Entry into Marshs Road from Springs Road:


Access to Healthy Harvest and Egmont Commercial from Springs Road must detour down Hodgens Road > Fountains Road and back onto Marshs Road
Access to Waste Management, Texture Plants and Lush Lawns must detour down Trents Road / Halwells Junction Road > Shands Road and back onto Marshs Road

There will be a one-way system in place for traffic on Marshs Road approaching the Springs Road intersection:

South eastbound from Marshs Road property #315 to Springs Road.
North westbound from Marshs Road property #348 to Springs Road.

Some stages of the construction works will require manual traffic control for short, intermittent
periods of time.
Cyclist will be merging with the traffic, please exercise extreme care.
A map of the road work area is included below.
The contractor for this work is Isaacs and you can also find Bi-weekly online project updates at: https://isaac.co.nz/projects/ongoing(external link).
If you have any questions or concerns or think there is something we should know please contact Jessica Swift at Isaacs on jswift@isaac.co.nz or 027 207 4631.
Thank you for your patience whilst we carry out this work.
Isaac Construction
Selwyn District