Roadworks: Te Korari Street near Prestons Road - one-way system from Monday 4 October 2021
| | |
| --- | --- |
| What | A temporary one-way system, southbound on Te Korari Street |
| Where | Te Korari Street, see map below |
| When | Tue 2nd Nov 2021 04:11 pm |
| Why | To connect the Marshland Substation to the stormwater network |
| Contact | If you would like more information, please contact the Orion Customer Support team on 0800 363 9898, day or night. |
What are we doing?
Orion has built a new substation on Prestons Road. The Marshland Zone Substation will allow us to switch between multiple sources of power for this area, providing alternatives in the event of an outage.
They need to connect the new substation building to the stormwater network in Te Korari Street. They will dig a trench, connect to a drain in the road and repair the road surface.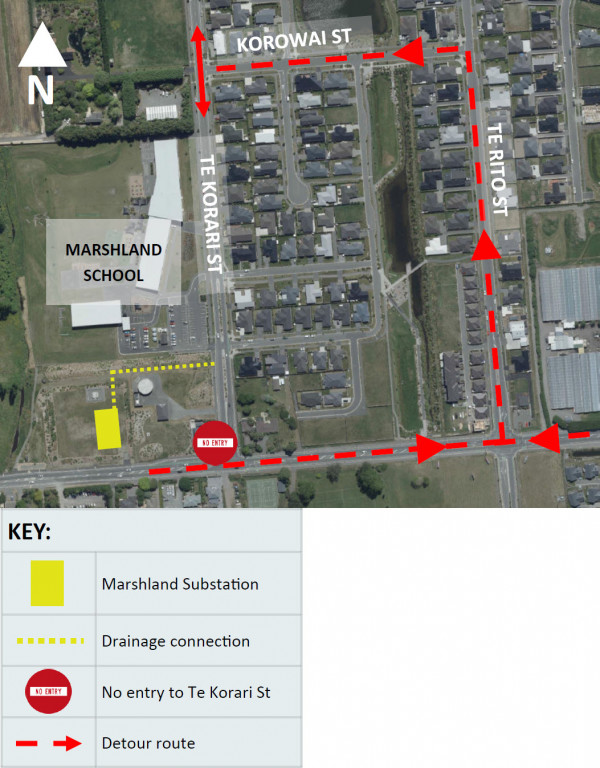 From Monday 4 October there will be:
No Entry to Te Korari Street from Prestons Road
Traffic will be able to exit Te Korari Street onto Prestons Road
Traffic Impact
To do this work safely we need to restrict entry to Te Korari Street.
Traffic will not be able to turn onto Te Korari Street from Prestons Road from 4 October 2021 for up to three weeks.
Traffic wanting to access Te Korari Street from Prestons Road will be able to use Te Rito Street and Korowai Street.
The footpath and cycle lane past the work site will be closed. Please follow the signage and any directions from our crew.
We understand this will be disruptive for residents' travel. They have planned the work for the school holidays to reduce the impact on Marshland School.
Thank you for your patience while we complete this essential work.