Event: Vantage Criterium National Championships 15 November 2020 from 2 pm
Last updated: 25 Nov 2020
| | |
| --- | --- |
| When | Tue 3rd Nov 2020 10:39 am |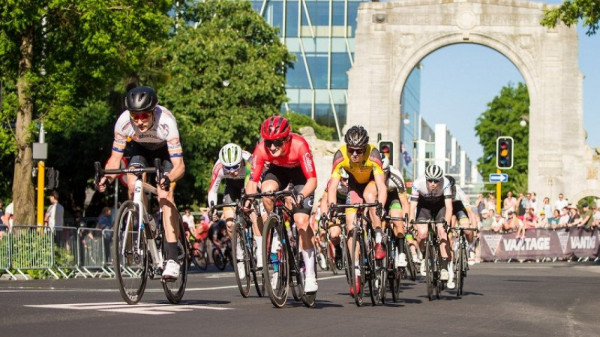 Olympians and World Championship medalists will hit the streets of Christchurch this November in the Vantage Criterium National Championships. This one-day cycling event follows a 1km street circuit over multiple laps and is free for spectators to enjoy.
The Criterium is a small circuit, multi-lap race, which will be held on a central city circuit in the Christchurch city centre. The event is scheduled to take place during NZ Cup and Show week, adding a new dimension to an already action-packed Festival week in Christchurch.
Further information on the event can be found at www.ccc.govt.nz/criterium. (external link)
Businesses and the central city are open as usual so come on in and indulge in some retail therapy, grab a bite to eat, check out the art gallery and then hang around and watch the racing.
If you are heading to the Museum or Botanic gardens the best access is from the south via Montreal St.
You can go to our congestion map(external link) to check delays.
Top travel tips
Avoid unnecessary car travel through the central city between 10 am and 9 pm – if your destination is NOT the CBD use the routes shown in green on the map below to get around the city
You can't cross the route by car
You will be able to walk across route between races.
Walk and cycle to and from the central city
If your travelling across the central city on race day your quickest options will be Madras St, Barbadoes St or Fitzgerald Ave
Access to Christchurch Hospital will remain fully open from all directions and all operative emergency service vehicles will be permitted across the road closure area at all times.
Bus services will be available - go to the Metro website

(external link)

for the best buses to use – Route 17 will have a detour

[JPG, 155 KB]

in place
Expect some delays on key routes around the central city
Plan ahead and avoid delays
Car Parking within the Central City
The road closures that will be in place will affect what car parks are available during the event, the car parking sites within the red zone on the map will be inaccessible.
If you want to park in any of the city's major car parking buildings – Lichfield Street, Hereford Street, The Crossing or Salt District carpark – use the blue arrows to find the best access.
You can use the Christchurch City Council Car Parking web page(external link) for information on the location of car parking buildings and the number of parks available.
Click on map above to expand.
Key road closures in the CBD will be in place by 10 am and removed by 9 pm:
Cashel Street – CLOSED from Montreal Street to Cambridge Terrace
Durham Street North – CLOSED southbound from the intersection with Bealey Avenue
Durham Street (including Cambridge Terrace) – CLOSED from Armagh Street to Cashel Street
Gloucester Street – CLOSED from and including Montreal Street to Cambridge Terrace
Hereford Street – CLOSED from and including Montreal Street to Cambridge Terrace
Montreal Street – CLOSED from Cashel Street to the intersection of Gloucester Street
Rolleston Avenue – CLOSED southbound from Armagh Street.
Worcester Boulevard – CLOSED from and including Montreal Street to Cambridge Terrace