Tomorrow's National Remembrance Service marking the first anniversary of the Christchurch mosque attacks has been cancelled, as a precautionary approach to Covid-19 (the Corona Virus). For more information on Covid-19 please visit the Ministry of Health website health.govt.nz
A National Remembrance Service will be held at 3pm on Sunday 15 March in Horncastle Arena.
The service, Ko Tātou, Tātou We Are One, will be jointly led by the local Muslim community, Christchurch City Council, the Government and Ngāi Tūāhuriri as mana whenua.
It will be an opportunity for people to come together in unity, to show compassion, love and support for all our communities, and the value we place on being an inclusive and diverse country.
It is a chance to acknowledge the unity shown in Ōtautahi-Christchurch, New Zealand and the world in response to the tragedy, and to express appreciation for the responders and all those who helped and to stand in solidarity with the bereaved, injured and all those affected.
Download the order of service [PDF, 160kb].
The Remembrance Service will be live-streamed for people to view worldwide.
Please note, this event has shifted from the original venue of North Hagley Park, due to the forecast of wet weather. If Horncastle Arena reaches capacity, people will still be able to view the service on a large screen just outside the arena.
Avoid bringing a bag to the event if you can. Bag searches will be taking place, which may slow down people entering the event.
Bags larger than 30cm x 30cm will not be allowed into Horncastle Arena and will have to be checked in.
Please arrive early for a 3pm start, doors will open at 2pm.
Dogs are not permitted, this includes small dogs and dogs on a leash.
Coronavirus (COVID-19)
We are following Ministry of Health guidance around public events.
If you feel unwell, stay at home.
Do not attend events if you have been in mainland China, Iran, Italy or the Republic of Korea (excluding airport transit) or been in close contact with someone confirmed with COVID-19 in the last 14 days.
Pedestrian access to Horncastle Arena is via Jack Hinton Drive off Whiteleigh Avenue.
Bike stands will be located near the main entrance to Horncastle Arena.
Mobility parking will be available off Jack Hinton Drive via Whiteleigh Avenue, a mobility pass must be visible.
Free park and ride buses will be running from University of Canterbury's Arts car park and Eastgate Mall between 1pm to 2.30pm on Sunday. Returning buses will depart from Lincoln Road (between Lindores and Twigger Streets) after the service.
The Orbiter and Orange Line bus routes both stop near Horncastle. Normal metro fares

(external link)

will apply.
There will be no public parking available at Horncastle Arena. We encourage people to use public transport and the free park and ride options.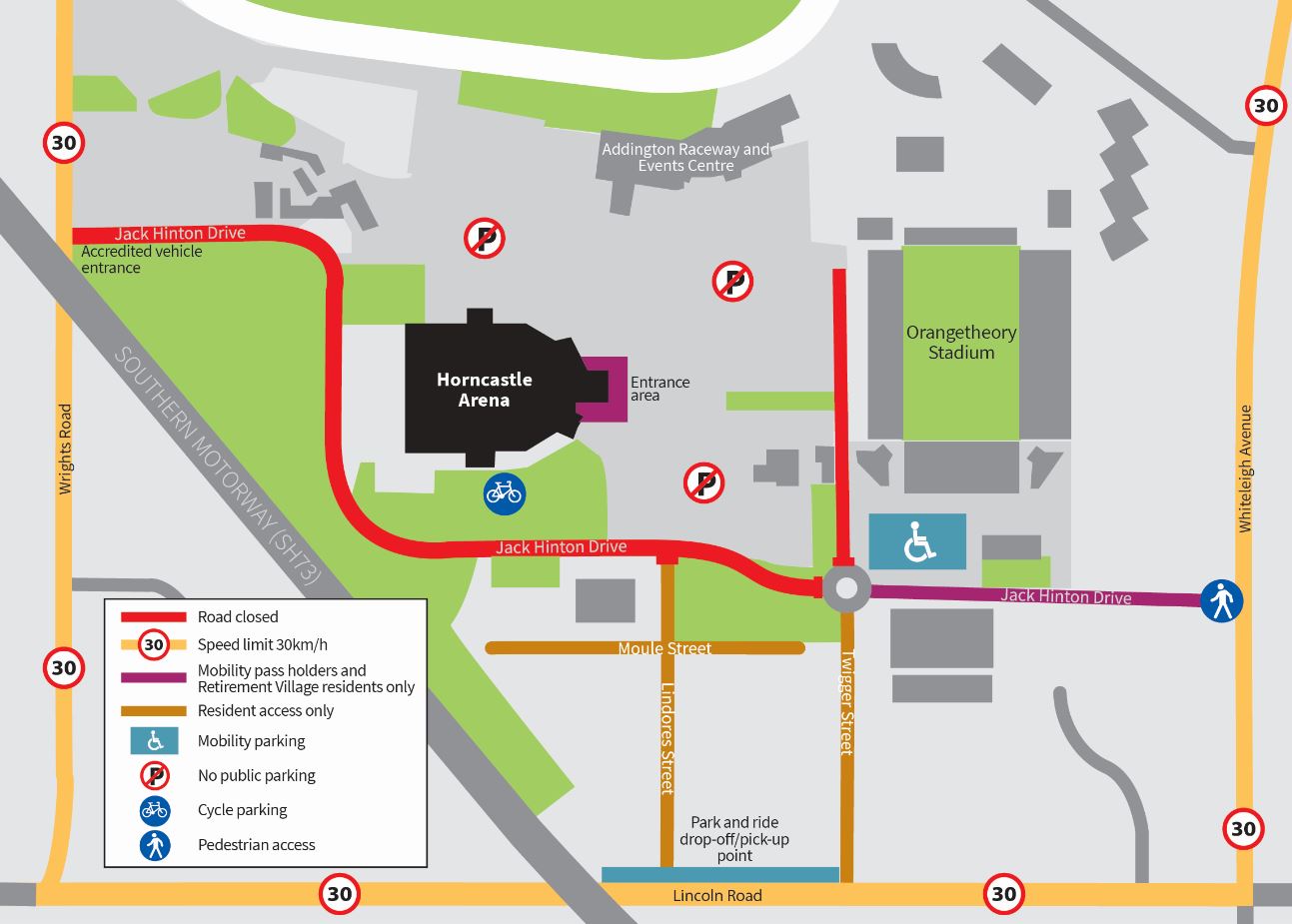 Jack Hinton Drive (between Wrights Road and Twigger Street) will be closed to all vehicles from 9am on Sunday 15 March.
Lindores, Moule and Twigger Streets will be closed to the public (resident access only).
The following streets surrounding Horncastle Arena will be reduced to 30km/hr from 9am to late afternoon on Sunday 15 March:

Lincoln Road – between Wrights Road and Whiteleigh Avenue.
Wrights Road – between Lincoln Road and Princess Street.
Whiteleigh Avenue – between Lincoln Road and Princess Street.
KARANGA
Ngāi Tūāhuriri (Ngāi Tahu)
Please stand for the arrival of the Official Party
ARRIVAL OF THE OFFICIAL PARTY
MC – Julian Wilcox
Chief Operating Officer - Te Rūnanga o Ngāi Tahu
Please be seated
MIHI WHAKATAU
Dr Te Maire Tau
Ūpoko, Ngāi Tūāhuriri (Ngāi Tahu)
WORDS OF WELCOME
The Honourable Lianne Dalziel
Mayor of Christchurch
WAIATA – MANA MAKAMUTU
A lament to those who have passed
Performed by Cashmere High School students
DU'A – MUSLIM INVOCATION
ADDRESS
Imam Alabi Lateef
Linwood Islamic Centre
ADDRESS
Dr Hamimah Tuyan
A PORTRAIT IN REMEMBRANCE AND READING OF THE NAMES
Honouring the 51 people who lost their lives following the events of 15 March 2019.
Name readers from the Muslim community supported on stage by Christchurch faith leaders and first responders
Minute's silence
GABRIEL'S OBOE
Performed by Burnside High School students
ADDRESS
Imam Gamal Fouda
Al Noor Mosque
SHORT FILM
By Dr Sherif Tawfeek - showing the local Muslim community before and after 15 March 2019.
DU'A – MUSLIM INVOCATION
MUSICAL PERFORMANCE
Whakaaria Mai How Great Thou Art performed by Henare Kaa
ADDRESS
Her Excellency the Right Honourable
Dame Patsy Reddy
Governor-General of New Zealand
BURSTING THROUGH (SONG BY BIC RUNGA)
Performed by Kate Taylor and Henare Kaa
ADDRESS
The Right Honourable Jacinda Ardern
Prime Minister of New Zealand
Please stand for the National Anthem
THE NATIONAL ANTHEM
Performed by Muhammed Abdul-Jabbar, Kate Taylor and Henare Kaa.
Supported by Cashmere and Burnside High School students.
Please be seated
MIHI WHAKAKAPI
Dr Te Maire Tau
Ūpoko, Ngāi Tūāhuriri (Ngāi Tahu)
WAIATA – HE HŌNORE
Performed by Cashmere High School students and Ngāi Tūāhuriri
THE DEPARTURE
Please stand for the departure of the Official Party